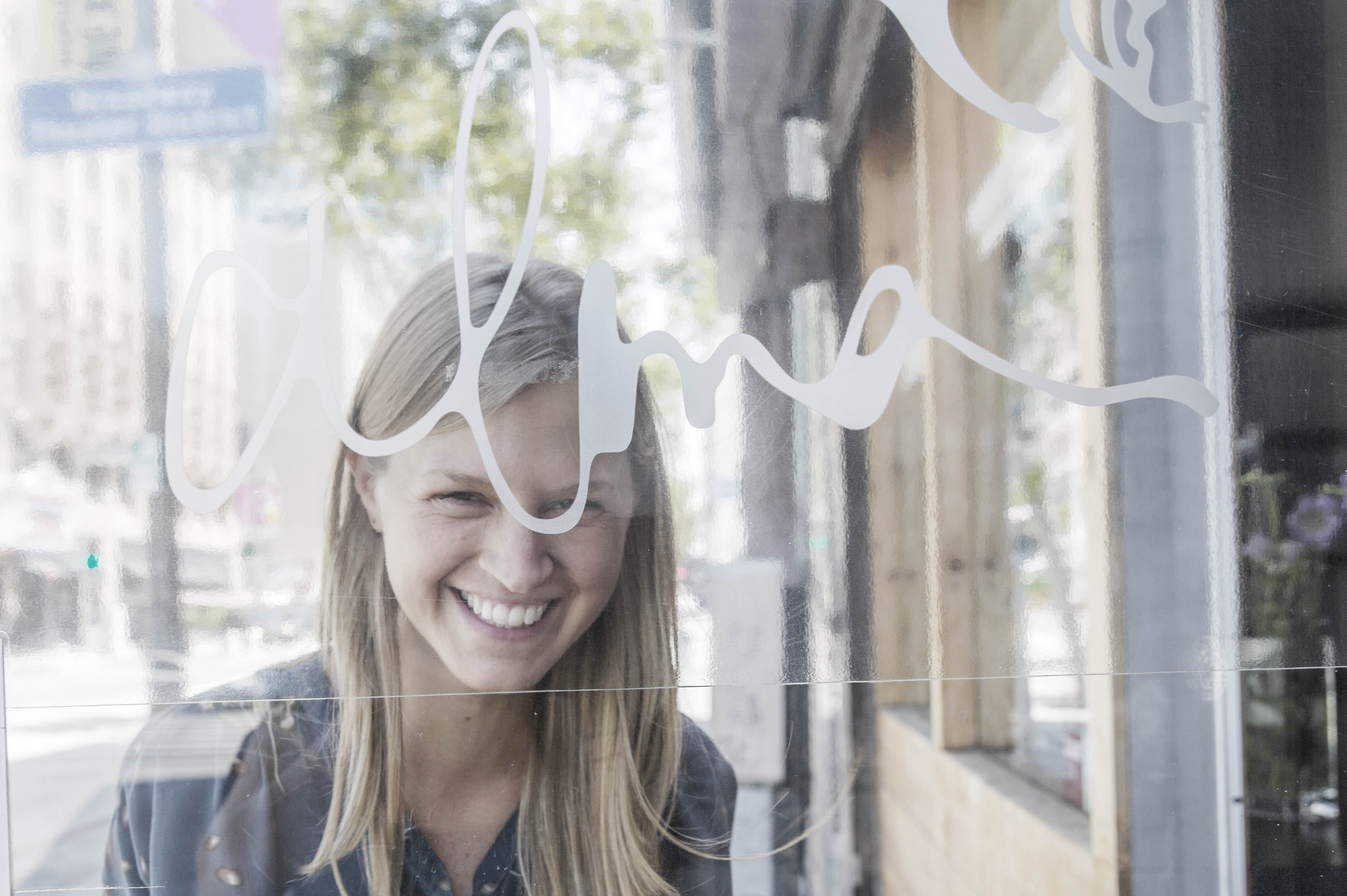 Ashleigh Parsons
Co-owner, Alma
---
Where is your favorite place to travel?
South America. I studied abroad in Buenos Aires, Argentina, and then I was in Uruguay, Brazil and northern Argentina, close to Bolivia.
---
What was a memorable meal from that trip?
The meat is so fresh and so good, and the chimichurri sauce that goes along with it is amazing too. The simplicity of food there is wonderful.
---
What is your favorite part of being a part of Alma?
Being involved in the entire process of building and running a restaurant is something that is simultaneously challenging and inspiring. Working alongside of Ari, with his passion and his dedication to the kitchen, sourcing ingredients and using those ingredients as a means of inspiration for his food, is so inspiring. Running
Alma
and the front of house is like trying to meet him, and I think we inspire each other by our sort of dedication to this project. Ultimately, thinking about the [restaurant] from start to finish within a day and on the bigger scale of opening a restaurant, is really rewarding.
---
Can you tell me more about your work with Alma Community Outreach?
Alma Community Outreach
just became a non-profit. When we opened
Alma
, Ari and I both agreed that no matter how much we had in the bank account – and at that time it was very little – that we would open an outreach program with the restaurant. [This program] involves the philosophy of cooking together, eating together, building a garden together with the youth of Los Angeles. Right now, we're in two charter schools that are within five miles of the restaurant. Hopefully we'll be in three schools by fall. With those schools, we try to build an edible school garden and, then, use that as the source for inspiration for the cooking classes and lessons that follow.
---
If someone wanted to get involved with Alma Community Outreach, how can they help?
We have two different routes for volunteers to take. One is to do the garden build ups with us. Those require a lot more hands. If a volunteer is more interested in a mentoring experience and a more regular and frequent experience, we have cooking classes twice a month at each of the schools. If volunteers are interested in either of those opportunity, volunteers can
email us
.
---
Interview with Ari Taymor
ANDREW HARPER STAFF (AHS): Tell me about your time working at La Chassagnette in France. Do you have a valuable lesson or experience that you brought back from your time there?
ARI TAYMOR: I was working, staying in one town and hanging out with the same group of people. It was helpful to be in one place and discover that place, and to go on day trips from there. Really learn the area and the people. I got the best of the culture more than I have ever done previously traveling.
AHS: What is your favorite quintessential dish from the area?
AT: [Arles is] famous for red rice that they grow there. It is the best rice I've ever had. [Arles is] right in the mouth of the Rhone River so it's kind of swampy everywhere. There are rice paddies where they grow heirloom red rice. It's so good.
AHS: I don't think I have ever put together that there are paddy fields in France.
AT: Yeah, I didn't either! In the summertime, there are pink flamingos there. It's pretty crazy.
AHS: The colors sound amazing. Having the flamingos with red rice must be so vibrant.
AT: And lavender and sunflowers! It's beautiful.
AHS: Are there any striking differences between being in a kitchen in the U.S. and a kitchen in France?
AT: [Rural restaurants in France] work really hard for seven months of the year. When I was there, it was their busiest season. I would work two services, lunch and dinner. You get in at 7:30 or 8 in the morning and you work until 2PM. You go home for an hour or two, and you come back and you work dinner. They close for five months of the year so people get a break. Here, you might just work a little bit less day-to-day but you don't get chunks of time to travel or anything like that that you did there.
AHS: That's so interesting. Moving on to your award-winning restaurant Alma, what are you putting on the menu right now? What is inspiring you around Los Angeles and California?
AT: We just put melon on the menu. I did this melon dessert yesterday with melon sorbet, cucumbers that are marinated in a little bit of simple syrup, and then this mousse made from wheatgrass.
AHS: How delicious! Outside of your own restaurant, are there any places that you would send somebody to eat in L.A.?
AT: I always send people to Night + Market, which is a Thai place. There's one in Silver Lake that just opened. It's authentic, amazing Thai food and it has a great wine list, too. There's also this guy who does a fish taco pop-up on the weekends in Silver Lake called Ricky's. They have the best fish tacos. They're pretty ridiculous. Other than that, there are a lot of hole-in-the-wall ethnic places. I really love Pizzeria Mozza which is in Hollywood. That place is spectacular.
AHS: What do you cook for yourself when you're at home?
AT: I don't normally cook just for myself, but, if I have friends coming over, I cook really simple stuff. Meatballs or piece of grilled meat and a salad. Outside of work, I don't crave creating any kind of intellectual food. Whatever is simple. Maybe I'll do a riff on curry? I make stuff that's tasty and quick.
AHS: Do you have any favorite food cities right now? Any places that you're excited to go?
AT: I know this is probably go to upset you as someone in Austin, but Houston has a really killer restaurant scene. My friend Justin is the chef at Oxheart. He is so talented. I got to try his food [at the FOOD & WINE Festival] in Aspen and it is really delicious.
I'm also dying to go back to Australia. Right now, it seems to me like the future avant-garde restaurant capital in the way that it was Spain for awhile and then it was the Nordic countries. I feel, in the next three to five years, it's going to be Australia.
AHS: What part of Australia are you thinking about heading to?
AT: I'd love to go to Melbourne. I'd love to go back to Sydney. I never made it to the west so I'd love to go to Margaret River, Perth and then back up to Gold Coast and Byron Bay.
AHS: That sounds awesome. You're very jet-set right now between your Best New Chef award from FOOD & WINE and Best New Restaurant award from Bon Appetit. What's one thing that you won't leave home without?
AT: A really versatile pair of shoes that you can go out during the day with and then out at night with. Other than that, I pack pretty light. I'm probably the worst person in the world to travel with because I like to get to the airport as late as humanly possible. (Laughs)
AHS: Where are you going next?
AT: In August, we're closing the restaurant for a week. My family has been going to Martha's Vineyard since my dad was a kid so I've been going since I was really little. We're going to rent a house and go out there for a week.