Walk southwest from the Marais toward the Seine, passing by the picturesque pedestrian street Rue des Barres. Then cross the Seine toward Paris' two islands, Île Saint-Louis and Île de la Cité, home to the famous original Berthillon (29-31 Rue Saint-Louis en l'île) ice cream parlor (stop for a scoop) and the Notre Dame cathedral. The cathedral is closed for entry following last April's tragic fire, but it is still one of the city's most impressive sites.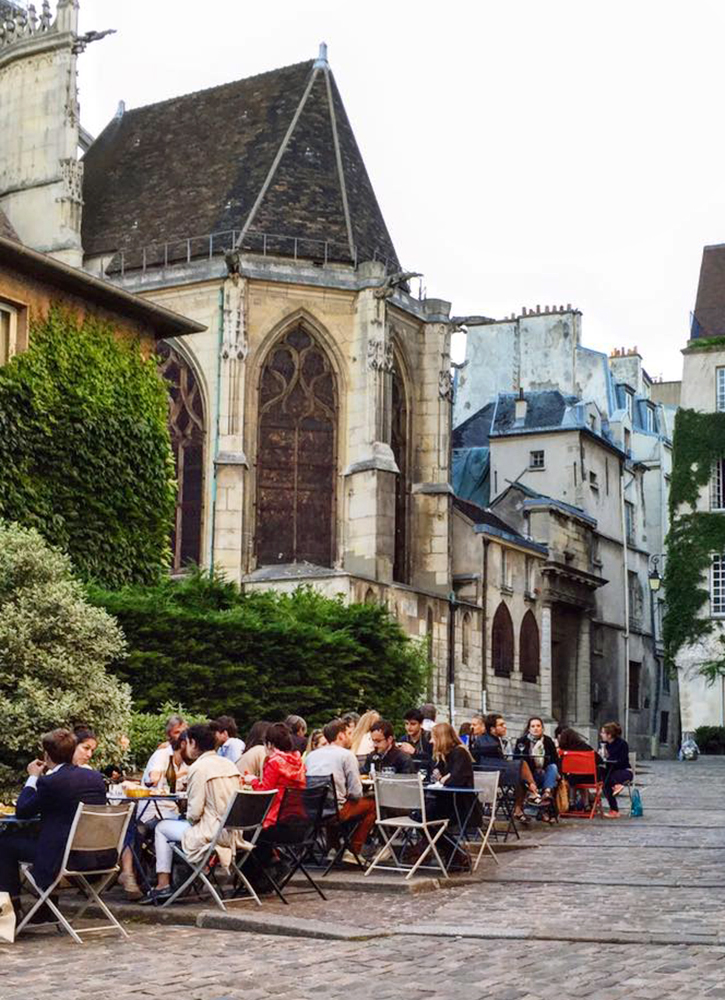 As you walk back toward the Marais, stop at Village Saint-Paul, which is nestled between the Seine and Rue Saint-Antoine. You'll find yourself in a maze of courtyards dotted with antiques dealers selling everything from vintage lamps to teacups.
Any ideal day in Paris should include some wine, cheese and charcuterie, the pursuit of which should lead you to Le Barav (6 Rue Charles-François Dupuis). Grab a seat and order your wine by the glass; if you prefer a bottle, walk right next door to the cave à vin and select one from the hundreds of vintages, then take it back to enjoy with your food. As for the cheese and charcuterie, boards arrive overflowing with the likes of truffle ham, saucisson sec, creamy brie and Morbier.
Evening
The Marais is full of trendy restaurants frequented by travel bloggers and socialites where food is served to be photographed and tables are positioned for people watching. Le Gaspard de la Nuit (6 Rue des Tournelles) is not that kind of a place. Tucked away on a quiet street close to the Place des Vosges, it's a cozy and romantic neighborhood bistro that feels like a secret. Sit down at the family-run restaurant complete with about 10 tables and order from the short but excellent menu that consists of classic dishes like escargots drowning in butter and garlic, decadent foie gras and duck confit.
For a nightcap, make your way to Le Mary Celeste (1 Rue Commines). This stylish bar dishes out oysters and small plates in the early evening before turning into a hip cocktail bar. You've probably never thought to mix shiso, seasoned tomato water or grapefruit oil with your spirit of choice before, but here, that's what you'll drink. And while you might expect such a bar to be pretentious, the relaxed and warm environment here is anything but. After a cocktail (or two or three) you might finally be ready to end your perfect day.