Alsace: Driving the Route des Vins
.article-cta-top
I first visited Alsace on a bicycle, riding across the Rhine River from Germany during my student years. Alsace dazzled me then, and I felt just as impressed by its fairy-tale landscape of hilly vineyards, half-timbered towns and crumbling castles on my recent visit. The region's unique cuisine combines French and German influences to great effect, and its wines — Riesling, Gewürztraminer, Pinot Gris, Pinot Blanc and Pinot Noir, among others — are justly acclaimed. But the main purpose of my visit was to fill a hole in our hotel map.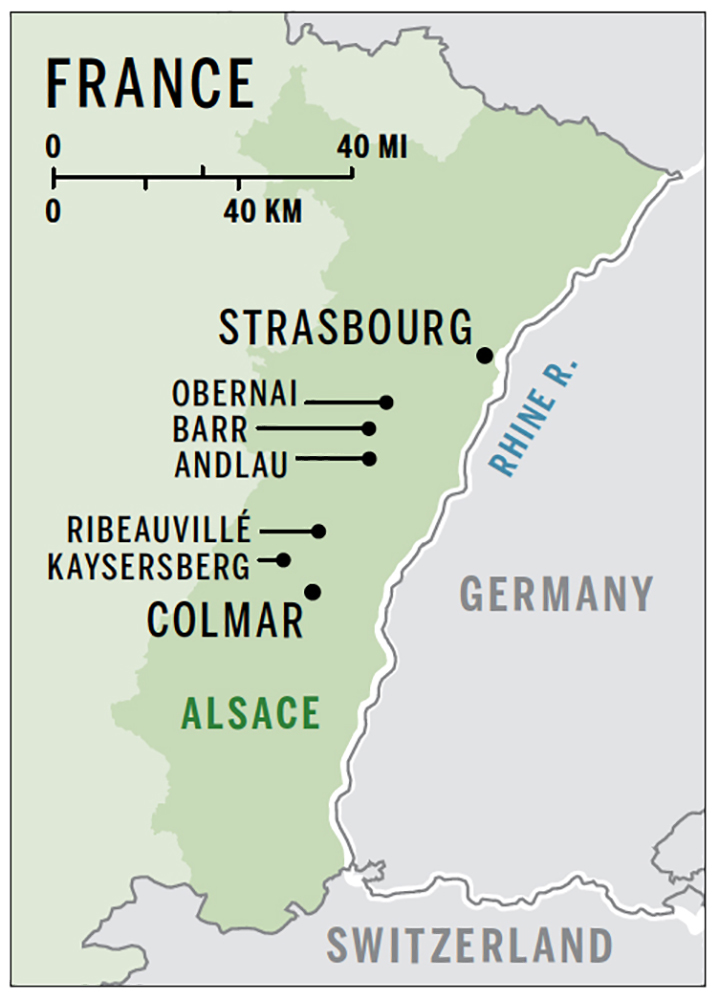 For years, we have recommended only two hotels in the region, both of which are in Strasbourg. Alsace's largest city is fascinating to explore, but I wanted to find some hideaways along the picturesque Route des Vins, which serpentines its way through vineyards and wine villages among the foothills of the Vosges Mountains. That way, Hideaway Report members could construct a driving itinerary linking Strasbourg with Alsace's exquisite wine country and my other favorite city in the region, Colmar.
5 Terres Hôtel & Spa
Barr, France
I regretfully bypassed Strasbourg entirely this time, starting my Alsatian grand cru tour in the pretty little town of Barr. Although Barr has a colorful, flower-filled center of cobbled lanes, it sees far fewer tourists than its flashier, more popular neighbor to the north, Obernai, which still retains its defensive walls. Barr also stands at the northern end of Alsace's main line of grand cru vineyards, making it an ideal starting point for a wine tour. In 2016, Barr acquired a stylish new hotel, the 27-room 5 Terres Hôtel & Spa. It occupies a late 17th-century building across from the town hall, giving the hotel pleasant views, as long as one ignores the many cars parked in the square.
5 Terres Hôtel & Spa and its restaurant, Table du 5, in Barr - Photo by Hideaway Report editor
We received a cheerful greeting from a bright young woman behind the front desk, and she gamely rolled our largest suitcase from the car up to our room, an attractive Junior Suite. It had new wood floors and original wood beams along the ceiling. The firm but comfortable king bed stood against a half-timbered accent wall, a lattice of logs filled in with rock, brick and chunks of carved stone salvaged from an older structure now lost to time. That wall aside, the room felt contemporary, with armchairs upholstered in eggplant velvet, a simple blond-wood work desk and a floor lamp covered in gold leaf. I also liked the bath, which had two vanities set in a wood counter and a large walk-in shower stall (but no tub).
The rest of the hotel has a similarly appealing mix of contemporary décor and period architectural elements. Copper-glass pendant lamps hang like Christmas ornaments in the airy wine bar, a conservatory-like space that once was the building's courtyard. A modern but cozy library-lounge divides it from the restaurant, Table du 5, a bright space of arched windows, exposed stone walls and massive wood beams. Alas, it was closed during our stay for the staff's yearly vacation, but we did enjoy the carefully sourced breakfast buffet (a menu listed the local producer of every item). A striking spa occupies the vaulted stone cellar, comprising a sauna, steam room, lounge, pool and two treatment rooms. I had a restorative salt scrub followed by a hydrating massage, but my plans to relax by the pool were thwarted. Other guests sat in every single lounge chair and even on the one bench, at least where it wasn't covered with used towels.
5 Terres Hôtel & Spa - Photo by Hideaway Report editor
The wine bar at 5 Terres Hôtel & Spa - Photo by Hideaway Report editor
The library-lounge at 5 Terres Hôtel & Spa - Photo by Hideaway Report editor
The restaurant, Table du 5, at 5 Terres Hôtel & Spa - Photo by Hideaway Report editor
The spa at 5 Terres Hôtel & Spa - Photo by Hideaway Report editor
The swimming pool in the spa at 5 Terres Hôtel & Spa - Photo by Hideaway Report editor
A spa treatment room at 5 Terres Hôtel & Spa - Photo by Hideaway Report editor
I found certain other aspects of the hotel less than endearing, including the lack of turndown service, the absence of any sort of shelf in the shower and the shortage of parking. The hotel has just three spaces adjacent to the building on the street. If those are filled, guests can try for a slot in the square or, as a last resort, around the corner in another lot. I always felt a little anxious returning in the afternoon, not knowing if I might have to make some semilegal maneuvers in the narrow streets in order to secure parking. Those qualms aside, I enjoyed our stay at 5 Terres, and I appreciated its design sensibility, which respected the building's heritage.
- Hotel at a Glance -
5 Terres Hôtel & Spa 90
Like
The warm contemporary design, well-integrated with period elements; the atmospheric spa; the helpful and responsive staff; the location in the center of a tranquil and pretty wine town.
Dislike
The limited and scattered parking; the absence of turndown service; the crowd in the spa; my shower's lack of shelf space.
Good to Know
I wouldn't reserve anything smaller than a Junior Suite; the restaurant closes annually for much of June, but it serves breakfast throughout the year.

Rates: Lowest Rate: Classic Room, $210; Editor's Choice: Junior Suite, $330
Address: 11 Place de l'Hotel de Ville, Barr
Telephone: (33) 3-88-08-28-44
View 5 Terres Hôtel & Spa Hotel Listing
Le Chambard
Kaysersberg, France
Le Chambard in Kaysersberg - Photo by Hideaway Report editor
I can't say as much about the design of Le Chambard, a 32-room gourmet retreat in Kaysersberg, a touristy but still-charming town abutting some of Alsace's best vineyards, overlooked by the romantic ruins of a little castle. Le Chambard has a wonderful, welcoming staff; a Michelin two-star restaurant; and a homey winstub (wine tavern), as well as a full-service spa and a convenient location on the edge of the town center. It could be a lovely inn, if only the décor exhibited a modicum of taste.
Our Superior Deluxe Room had an awkward layout, with a narrow sitting room that pressed the sofa uncomfortably close to the desk and wall-mounted television. I could have forgiven that misstep if it wasn't for the clashing colors: thick carpet in a green-gold hue last fashionable in the 1970s, brothel-ready plum damask wallpaper and beige-painted wood trim. The very comfortable king bed had a decorative gold coverlet and pillows that didn't quite match either the trim or the carpet. And the bath looked grandmotherly, with a pink-marble dual vanity and beige tile accented by an occasional spray of flowers.
Matters did not improve outside our room. The hall leading to it was clad in zebra-print fabric embellished with silver wire. A mostly attractive lounge downstairs had an original stone hearth, wood beams and antique-style furniture upholstered with modern color-block fabrics. But why was there a vintage plastic donkey children's ride in the corner? The Marius Bar off the lobby also took decorative risks, with its collection of antlers and taxidermied heads mounted on the wall (the owner loves hunting), overlooking seating groups with black-and-white cowhide upholstery. The spa was striking, done in red, black and slate, but the indoor pool was faced in a cheap-looking rubbery plastic. It fronted a small garden, flanked by flower-filled guest room balconies and a stone tower, with views of the old town beyond.
The traditional décor of the winstub came as quite a relief. Breakfasts there were lavish. A buffet offered cheese and charcuterie, but most items came straight to the table. The first morning, I watched, amazed, as our waitress delivered a selection of fresh rolls, a basket of pastries, fruit cocktail, vanilla-bean custard and an entire Guglhupf (yeasted bundt cake studded with raisins). "Would you like eggs, bacon, sausage, ham?" she asked. I requested that she at least remove the Guglhupf and give it to someone else. "But you can take it with you and save it for later," she suggested, as she poured fresh juice and coffee. "Now, what sort of homemade jam would you like?"
The gardens in the back of Le Chambard - Photo by Hideaway Report editor
A Guglhupf to go was the last thing I needed after the previous night's dinner at La Table d'Olivier Nasti, Le Chambard's acclaimed restaurant, which had a more restrained décor than the rest of the hotel. We ordered L'Histoire, the shortest tasting menu, with seven courses that riffed on traditional Alsatian recipes. I especially liked a delicate composition of local mountain char with crayfish, snails and parsley jus, which paired beautifully with some lush and minerally Riesling from the grand cru Pfersigberg vineyard. And the loin of summer roe deer — reportedly hunted by the chef himself — arrived rosy and tender, accompanied by wild cranberries, chanterelles, fir tree bud gelée and a flawless Kassknepfle (cheese dumpling). It was an Alsatian forest on a plate.
- Hotel at a Glance -
Le Chambard 89
Like
The genuinely friendly and cheerful staff; the superlative gourmet restaurant; the extravagant breakfast in the charming winstub; the convenient location; our spacious room; the Bulgari toiletries; the relatively easy parking.
Dislike
The over-the-top décor that ranged from nursing home to nightclub; our shower-tub combo with an awkwardly placed showerhead; the plastic-clad swimming pool.
Good to Know
Reception closes between 11 p.m. and 6:45 a.m.

Rates: Lowest Rate: Chambard Room, $260; Editor's Choice: Suite, $420
Address: 9-13 Rue du Général de Gaulle, Kaysersberg
Telephone: (33) 3-89-47-10-17
I left the restaurant (if not the hotel) with regret and continued south along the wine route to my favorite Alsatian city, Colmar. Despite its location near the German border, Colmar managed to make it through both world wars with relatively minor damage. Its old center remains a delightful place in which to stroll, full of appealing boutiques and cozy restaurants in pastel half-timbered houses. A canal runs through the picturesque Petite Venise quarter, and one of Alsace's cultural jewels, the Unterlinden Museum, recently completed a splendid addition, allowing it to display more modern and contemporary art. Whenever I return to Colmar, I inevitably strategize about moving there.
La Maison des Têtes
Colmar
La Maison des Têtes in Colmar - Photo by Hideaway Report editor
The city long lacked a hideaway of distinction, but that changed with the renovation of the landmark La Maison des Têtes, the "House of Heads." Marilyn and Eric Girardin bought the property in 2015 and carried out a renovation the following year, refreshing the 21 guest rooms and turning what had been a storeroom into a sleek dining room (Restaurant Girardin received a Michelin star in 2017). The early 17th-century façade — embellished with some 106 carved stone heads, an ornate two-story oriel and a bronze statue of a cooper by Frédéric-Auguste Bartholdi — remained, of course, unchanged. The Girardins acted as hosts during our stay, making frequent appearances in all the various public spaces.
We received clear driving instructions from the hotel in advance of our arrival, allowing us to reach the parking lot behind the property without difficulty. As at the 5 Terres Hôtel & Spa, a welcoming young woman behind the front desk offered to accompany us back to our car and assist with the luggage (there was no bellman). She took us up to our junior suite-like Caractère Room, the best category in the hotel, aside from the one Duplex suite. The open-plan space was attractive, well-laid-out and very comfortable. A gunmetal-gray linen sofa stood against a half-timbered wall, and wood-framed armchairs had gold and red upholstery echoing the stained-glass accents of the windows in the oriel, a wood-paneled extension just big enough for an antique writing desk. It was great fun to look out the leaded windows and watch tourists photograph the hotel's façade. A wall of wood paneling also backed the bed in dramatic fashion. The design had an effective simplicity that highlighted the original architectural features of the room. But the immaculate white bath felt small, with a shower-tub combination and a single vanity.
The courtyard patio at La Maison des Têtes - Photo by Hideaway Report editor
La Maison des Têtes has no spa, or even a dedicated bar. Its main amenities are its two restaurants. I wish I could have found time to eat in the Brasserie Historique, not so much for its traditional interior as for its leafy courtyard strung with lights, located at the center of the hotel. It was delightful to have an aperitif of local Muscat there early in the evening, relaxing on a sofa.
We did have dinner in the gourmet Restaurant Girardin, a minimalist space accented by an extraordinary cocoon of gray fabric panels. Chef Girardin himself came to the table to take our order. I couldn't manage an eight-course tasting menu that night. Instead, I ordered what sounded like a light dinner: tasting menu-size portions of a "blend of cooked and raw seasonal vegetables" and "mushrooms from the day's harvest," and a main course of "Alsace chicken in two dishes." I somehow ended up with precisely nine courses, not including bread. So much for my light dinner!
My appetite returned as soon as the beautifully presented dishes started arriving. A tapioca squid-ink cracker topped with octopus and aioli was the Mediterranean in a bite, and an aromatic red beet gazpacho with chunks of yellow beet and apple tasted like summer. The mushroom dish — chanterelles, morels and pickled shiitakes with mushroom foam and a perfect soft-boiled egg — was luxuriously rich. And the Alsatian chicken did indeed prove to be two courses, my favorite of which was the crispy-skinned pan-seared breast with chopped artichoke hearts, artichoke purée and chicken jus. The jus tasted so deeply satisfying, I couldn't resist eating a spoonful straight from the pot.
I waddled back to our room, seduced once again by the soulful food and vivacious wines of the Alsace. Every time I visit the region, all restraint gets tossed out the window, and my life turns into one of unmitigated decadence. No wonder I fantasize about moving there.
- Hotel at a Glance -
La Maison des Têtes 90
Like
The chic, restrained décor that highlights the building's historic details; the inviting courtyard patio of the brasserie; the superb main restaurant; our well-laid-out accommodation; the frequent presence of the owners.
Dislike
Our smallish bath; the lack of a dedicated bar; the 4 p.m. check-in time; the closure of reception between 10 p.m. and 8 a.m.
Good to Know
Reconfirm your reservation with the hotel via email if you make it online or with a travel agent; the front desk thought we had reserved a room one category lower than we'd actually booked.

Rates: Lowest Rate: Cofort Room, $330; Editor's Choice: Cractère Room, $400
Address: 19 Rue des Têtes, Colmar
Telephone: (33) 3-89-24-43-43