Chef Gilles Goujon's three Michelin stars have put the tiny commune of Fontjoncouse on the map, but fortunately they have not dulled his joie de vivre. His cooking, while high art, remains rootsy and even comical. In cozy, blond-wood rooms, guests are invited to wield a mallet to crack a sugar "pearl." Smoke wafts out, mingling with seawater gelée and raw oyster. A waiter slices a crusty loaf to reveal a lily-white onion within. He serves it warm atop a cardamom-scented fricassée of baby lettuces, peas and, improbably, strawberries. Dig into a local farmer's egg and out spills black truffle jus. Lavished with mushroom cream and more truffles, with warm mushroom milk on the side, this is just one of the chef's paeans to fungi. He also stuffs morels with shrimp paste and pairs them with asparagus and a ravioli of Corsican sheep's cheese. And he fills a vol-au-vent with wild mushrooms, sauced in oxidized wine, on a plate of rabbit and goat offal. Dessert, too, celebrates the homespun. A shiny sugar lemon encloses citric sorbet, thyme-flower cream, lemon curd and kumquat purée. "Just like grandmother's lemon merengue pie," says the server, though few of our forebears ever cooked like this. Reservations required. Set menus: US$115 to US$205; à la carte US$180 before drinks.
Auberge du Vieux Puits
5 Avenue St Victor, Fontjoncouse. Tel. (33) 4-68-44-0737
Le Grand Cap
A blue-and-white interior frames panoramic ocean views at this dramatic location next to the Phare du Cap Leucate lighthouse. Judging by the originality of his cooking, chef Erwan Houssin is gunning for a second Michelin star. He employs Japanese touches: a shrimp tartare lollipop over toasted sesame seeds; butter blended with yuzu; an enormous oyster bathed in cucumber juice. Fennel — raw, cooked and foamed — sweetens spider crab meat, while wasabi-flavored flying fish eggs lend heat and texture. Crunchy sea beans and a dusting of dried seaweed bring umami oomph to line-caught loup de mer, sided by a spinach, broccoli and parsley purée garnished with baby Swiss chard. Full-flavored pigeon breast is dressed in a sauce made with herbs foraged right outside the window. Fairy-tale desserts include a cherry soufflé with a basil-and-fresh cheese sorbet to abet its spell. But the showstopper is the mignardise cart, a fantastical, rolling sculpture that looks like it's part sea nymph, part coral reef. A server dives for your treasures — coffee-strachiatella mousse push pops; banana, ginger and citron gold-leaf pearls — each more precious than the last. Reservations required. Set menus US$55 to US$90; à la carte $130.
Le Grand Cap
Chemin du Phare, Leucate. Tel. (33) 4-68-48-1373
Château de Riell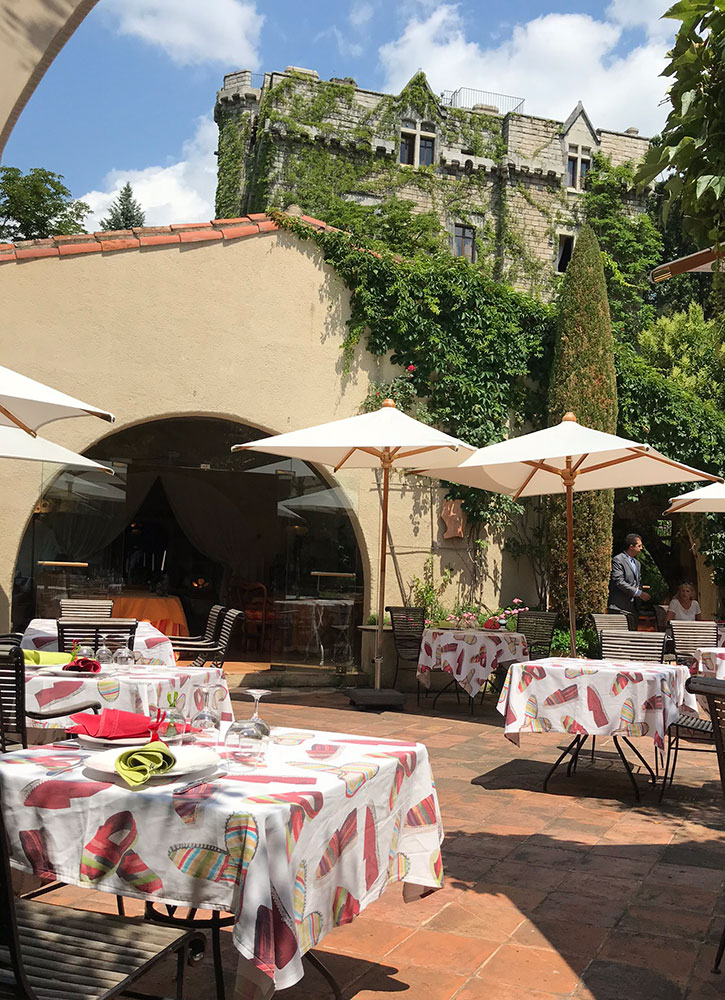 After so many meals drenched in rich sauces, one can yearn for simpler fare. The restaurant at this gorgeous Pyrenees thermal resort delivers. Chef Sébastien Nouveau is a disciple of Michel Guérard's slimming cuisine minceur, which he prepares upon request. But all of his cooking is fresh and elemental. If you've partaken of the spa's white mud bath or plankton facial, afterward you might just want a salad, which can be hard to find on haute French menus. Here, diverse greens, julienned vegetables, Parmesan, shredded chicken, dried acacia flowers, lacy croutons and a garlicky cream dressing make for a monumental lunch. At dinner, Mediterranean sashimi comes dressed en saor, in a sweet-sour sauce of pickled onion, accompanied by a medley of shaved raw beets and baby zucchini, radicchio and rocket. Nouveau likes live fire. He gives succulent, local Tirabuxo pork a good charring, then bolsters its jus not with cream but with capers to create a balance of sweet, savory and bitter flavors. For dessert, opt for the apricot tart tatin. Loaded with fruit and piping-hot, vanilla-bean ice cream pooling on top, it's proof that even a spa restaurant can allow you to indulge. Reservations recommended. Set menus US$ to US$85; à la carte $100 before drinks.
Château de Riell
Route des Bains, Molitg-les-Bains. Tel. (33) 4-68-05-0440
Prices reflect approximate cost of dinner per person, excluding wine.