The next two days I spent hiking in the countryside and visiting nearby villages, returning each evening to enjoy more of Simona's delicious cooking. Dinner always began with a soup, followed by dishes such as stuffed cabbage with mămăligă , the Romanian version of polenta, and hen braised in cabbage with roasted new potatoes. Tired after the day's exercise, I found myself going to bed as early as the local farmers. Overall, Copsamare Guesthouses is a comfortable and attractive base from which to explore.
- Hotel at a Glance -
Copsamare Guesthouses 90
Like
The homey comfort of my suite; delicious home cooking.
Dislike
The lack of a tub in the bath.
Good to Know
There is nowhere else to eat in the village, so evening meals should be booked when you make your reservation.

Rates: Lowest Rate: White Loft, $120; Editor's Choice: Yellow Main Suite, $145
Address: Strada Principala 146, Copşa Mare
Telephone: (40) 746-046-200
View Copsamare Guesthouses Hotel Listing
Maison Elysée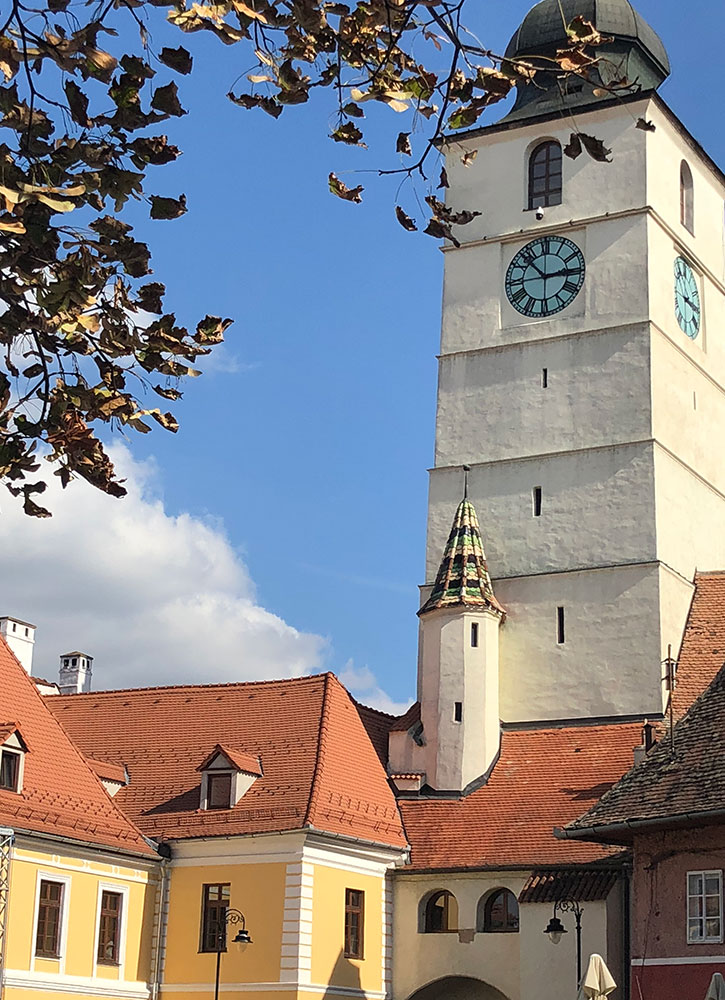 My last stop was Sibiu, 50 miles to the southwest, which was known as Hermannstadt when it was populated by Saxons. Most of them left long ago for Germany, Austria and the United States, but the Germanic imprint on this charming and well-groomed city is obvious. The profile of Sibiu was raised by the election of Klaus Iohannis, a man of Saxon descent and its former mayor, as president of Romania in 2014. Previously, Iohannis had been instrumental in making Sibiu a European Capital of Culture in 2007.
It's possible to visit Sibiu as a day trip from Copșa Mare, but since the city would be my last stop before a four-hour drive to Bucharest and my flight home, I decided to spend the night. As is true of many Transylvanian cities, the hotel options vary between modern properties catering to business travelers and small, often quirky boutique hotels in the historic center. Taking a tip from friends in Bucharest, I booked at the eight-room Maison Elysée, which occupies a restored Belle Epoque mansion on the edge of the Upper Town within a five-minute walk of Sibiu's Great Square.
My suite on the second floor had a turquoise color scheme and a rather operatic décor, but it was spacious, quiet and comfortable, with a large sitting room appointed with a sofa, armchairs and a built-in wall unit filled with books, plus a large dressing room, a bedroom with a sloping ceiling and a well-lit bath with a shower and a single sink. The staff were charming, and the breakfast was excellent. For a single night, the property was entirely adequate.