Grand Award Winner: The Beverly Hills Hotel
.article-cta-top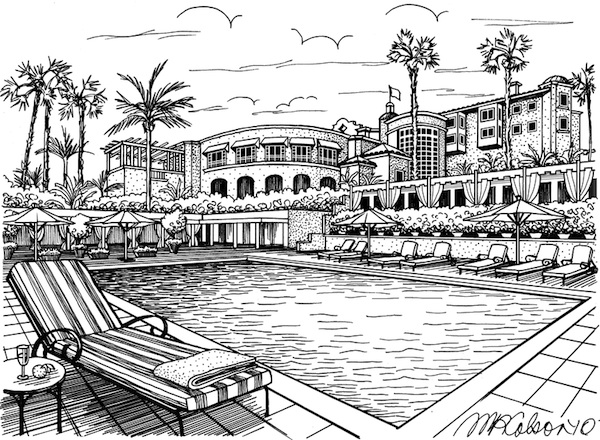 Copyright Andrew Harper
An iconic pink structure located at the corner of North Crescent Drive and Sunset Boulevard, The Beverly Hills Hotel opened its doors in 1912. Although we have sometimes eschewed the property because of its overt links to Hollywood celebrity, we have always been lured back by the tranquility of its 12-acre garden setting.
Beneath the porte-cochère, we were intercepted by a swarm of valet parking attendants, and despite our self-evident lack of A-list credentials, everyone was exceptionally polite and friendly. It was immediately apparent that considerable effort has been expended on the recent renovation of the public areas. Our Deluxe double room was similarly immaculate.
The Beverly Hills has 204 rooms and suites, plus 21 bungalows (in which it is possible to take individual rooms). Bungalows come with separate entrances, living rooms and dining rooms. Some have pianos and Jacuzzi tubs, while the most opulent of all, four-bedroom #5, has a private lap pool.
Dining options at the hotel include the eccentric Fountain Coffee Room, which serves sandwiches and burgers at 19 barstools along a curved counter, plus the legendary Polo Lounge, for decades the Hollywood power lunch venue of choice. For some reason known only to the architect, to reach the delightful Cabana Café adjacent to the hotel's celebrated pool, you must first pass through the reception of the 1,900-square- foot La Prairie spa. The pool and its 21 cabanas are part of Hollywood legend, but leaving its star-spangled history aside, it is just a wonderful place to relax on a sunny day, beneath the towering palms and overarched by the deep blue of a cloudless California sky.