The Hidden Mardi Gras Museums of New Orleans
.article-cta-top
Floats, throws, costumes and King Cake — that's what most people know about Mardi Gras in New Orleans. But there's another side of Carnival that only select locals get to experience, the ones who ride or march with a secret society, called a krewe. For visitors who want to learn more, a few off-the-radar museums will let you in on the magic and the mystery of this most New Orleans of holidays.
Backstreet Cultural Museum
Just a block and a half from Louis Armstrong Park, the Backstreet Cultural Museum, located in a somewhat timeworn three-room house, showcases all the elements of black Mardi Gras, which celebrates the traditions, artistry and resilience of the people who were historically kept out of mainstream Mardi Gras. Visitors can get an up-close look at the intricately beaded suits worn and sewed over the course of a year by Mardi Gras Indian chiefs; memorabilia and outfits created by Social Aid and Pleasure Clubs, community organizations that grew out of the "benevolent societies" of the 1800s; and the frisky outfits of the so-called Baby Dolls, women who dress like baby dolls in honor of the disenfranchised prostitutes of black Storyville in the early 20th century. Museumgoers can also learn about jazz parades, jazz funerals and second lines. The $10 fee is worth it, if not for the guided tour, which may leave you with more questions than answers, but for the exhibits, which document and explain a culture that is still thriving more than a century after it began.
Backstreet Cultural Museum
1116 Henriette Delille Street. Tel. (504) 657-6700
House of Dance & Feathers
The entrance to the House of Dance & Feathers, owned by Ronald W. Lewis - Photo by Hideaway Report editor
The House of Dance & Feathers is a labor of love for Ronald W. Lewis, the director and curator of this museum in the back of his Lower Ninth Ward home, about 20 minutes from the French Quarter.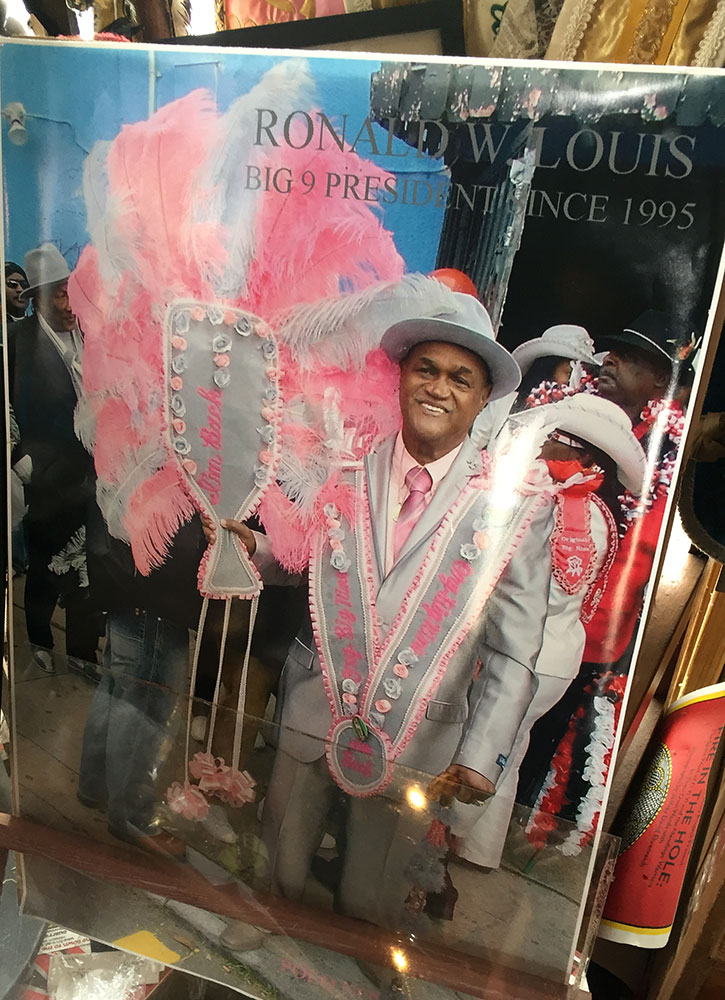 A beloved figure in his community, Lewis is the president of the Big Nine Social Aid and Pleasure Club and the former council chief of the Choctaw Hunters, a Mardi Gras Indian tribe he helped start. He's been immersed in the culture his whole life, so when his wife, "Minnie," got fed up with all his feathers, beads and artifacts in their house, he knew he'd need to create a space for it all. Lewis proudly presides over his collection and, in an effort to educate the public about this unique-to-New Orleans subculture, patiently answers guests' questions about the skull and bone gangs, Mardi Gras Indians, parade krewes and what it was like to survive not just one but two of the worst hurricanes New Orleans has ever experienced. You'll come away with knowledge, a new friend and, if you are so inclined, his book, "The House of Dance & Feathers."
House of Dance & Feathers
1317 Tupelo Street. Tel. (504) 957-2678
The Germaine Cazenave Wells Mardi Gras Museum
Exhibits at the Germaine Cazenave Wells Mardi Gras Museum, upstairs from Arnaud's restaurant in the French Quarter - Brian F. Huff
This small Mardi Gras museum, upstairs from Arnaud's, the iconic French-Creole restaurant in the heart of the Vieux Carré, is dedicated to Germaine Cazenave Wells, the flamboyant, outspoken and somewhat wild daughter of the original owner, "Count" Arnaud Cazenave. Between 1937 and 1968, Wells was the queen of Mardi Gras an astonishing 22 times, more than any other woman in the history of Carnival. Always one to keep the party going, she also instituted an Easter Parade to showcase her collection of fanciful hats. Upstairs from the main dining room is the Mardi Gras Museum, where visitors can glimpse 13 of her elaborate queen costumes, along with vintage photographs, Carnival masks, krewe invitations and several of her Easter Sunday hats.
The Germaine Cazenave Wells Mardi Gras Museum
813 Rue Bienville. Tel. (504) 523-5433