Just Back From: Paris, France
.article-cta-top
This past August, our digital marketing manager, Kaley Wheless, visited Paris for the first time. She spent the first few days based in the lively Marais district, which our editor has described as "truly one of the most engaging parts of Paris." (After seeing it for herself, she has to agree!) For the remainder of the week, she stayed at the Saint James Paris, a Hideaway Report-recommended hotel set in an 1892 château near the Arc de Triomphe. Throughout her stay, she explored museums, neighborhoods, shops, landmarks and gardens.
Overall impressions: The city itself was incredibly charming and even better than anticipated, which I think is the mark of an extraordinary travel experience! Locals were more than willing to lend assistance when my mediocre French failed me, and I appreciated the many moments of leisure that seemed carved into daily Parisian life. One weekday evening, for example, we sat by a fountain in the Jardin du Palais Royal and marveled at people relaxing in the available chairs, napping on the lawn, smoking, chatting and generally unwinding after the workday. It was a lovely surprise to see such enjoyment of life's simple pleasures in one of the world's most bustling cities.
Good to know: The Saint James Paris is a bit out of the way of regular sightseeing routes, but it was still only a few Métro stops from central Paris, and about a 20-minute walk from the Eiffel Tower. After staying in Le Marais for the first half of the week on a busy, bar-filled street, the quiet location was a welcome respite. The hotel has complimentary bicycles, as well as a BMW i3 available for guests. (Hideaway Report members who book with our partner Andrew Harper Travel can rent one for free for a day.)
Saint James Paris - Poligny Apicius
Favorite moment: I loved exploring the Jardin du Luxembourg. After reading a little of "Paris Was Ours: Thirty-Two Writers Reflect on the City of Light" (recommended by one of our editors), we napped on the lawn near fellow parkgoers who picnicked, lounged and admired the perfect weather and nearby fountains. Jardin du Palais Royal is a less-crowded alternative. Nearby it, located on the inner courtyard of the Palais Royal, is Les Deux Plateaux, the controversial art installation of black-and-white-striped columns, the shorter of which appear to make up a giant checkerboard.
You can't stop thinking about: The Chocolat L'Africain at Angelina, an elegant teahouse that opened in 1903. The hot chocolate is made from a secret recipe, with cocoa from Niger, Ghana and the Ivory Coast.
Favorite meal: Dining at Derrière, a restaurant made to look as if it's set within a multifloor apartment (one dining room has tables next to a fully made bed!). If you go upstairs to the bathrooms, be sure to peek inside the adjacent armoire. The back of it opens to a hidden lounge, full of taxidermy and eclectic décor.
Favorite museums: The Musée des Arts Décoratifs, located in the Louvre's western wing, showcases a wide array of thematic exhibits, ranging from jewelry to furniture. My favorite, however, was the exhibition dedicated to the work of Roman Cieślewicz, a Polish graphic artist who worked at Vogue and Elle magazines and took the Paris design world by storm in the late 20th century. I especially liked his comments on the era of oversaturation and the 24-hour news cycle, and the importance of being able to take a break. As he says: "The images move, thank goodness! But it is important to be able to decide to stop them, to press pause. That is one of today's greatest luxuries, to be able to stop." That seemed like timely wisdom — and vacation inspiration!
Also memorable: Musée Jacquemart-André, which is set in a palatial once-private residence. It features the impressive collection of the original owners and includes works by Donatello, Botticelli, Carpaccio and Rembrandt. I also suggest checking out Galerie Joseph during your visit for any noteworthy shows.
Where to drink: Le Fou has a wonderful cocktail menu and ambiance. Le Loire dans la Théière, another recommendation from a Hideaway Report editor, offers a wonderful tea and coffee menu accompanied by incredible desserts (including the biggest slice of meringue pie I have ever seen!). I was also pleasantly surprised by the "no laptops" sign inside. Throughout my stay, I only saw three or four people on laptops in cafés. It was a delightful difference from the States.
Neighborhood to explore: Le Marais charmed me! While there, we took a detour to the Passage du Grand Cerf, a shopping arcade near the corner of Rue Marie Stuart and Place Goldoni that opened in 1825. I purchased two rings at the little Eric & Lydie shop, which is a lovely jewelry boutique. The eponymous founders have worked with Christian Lacroix, Valentino and director Kenneth Branagh, designing pieces for his film "Hamlet."
We also ducked into the Rickshaw Objets du Monde shop, which sells items like antique gaslights, decorative doorknobs, painted wooden letters and more. I also recommend strolling along Rue de Turenne (for enjoyable shops and places to eat, including Crêperie Suzette) and Rue Rambuteau (for anything and everything sweet, try Le Comptoir de Mathilde).
Surprising fact: I learned that the traditional way to enjoy crêpes is with cider, and I can now personally confirm it is a great combination.
Cider at Crêperie Suzette - Kaley Wheless
What to pack: While I was there, the weather ranged from 90-degree heat to chilly rain, but most of the time it was in the 70s and 80s. For late summer, I'd bring a light jacket or a warm sweater and a portable blanket for stopping in the gardens.
Insider tip: We used the Duck the Line app when we planned a tour of Cathédrale Notre-Dame, and during our hour-and-a-half wait we walked a few blocks to enjoy the beautiful Sainte-Chapelle, a royal Gothic chapel with incredible stained-glass windows. Afterward, we returned and were able to hop right in the front of the line to go inside for the tour. Highly recommend!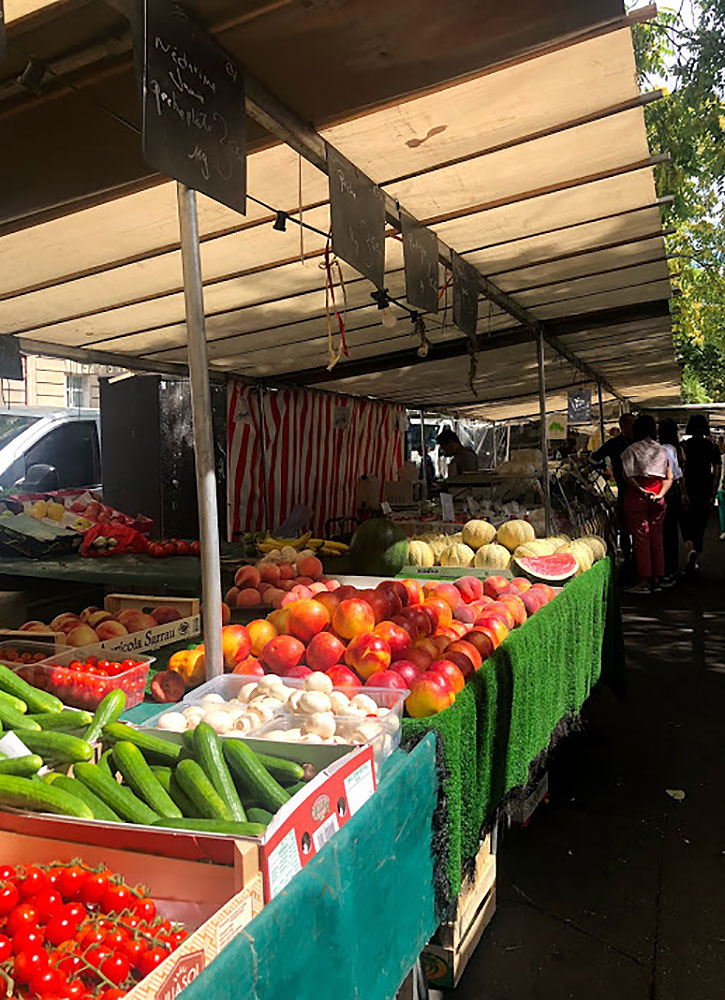 Additionally, after our Eiffel Tower visit, we strolled along Avenue du Président Wilson, where there is an open-air market on Wednesdays and Saturdays, from 7:30 a.m. to 1:30 p.m. We browsed the vendors' stands full of produce, cheese, fish and flowers, as well as accessories like scarves, sweaters and jewelry.