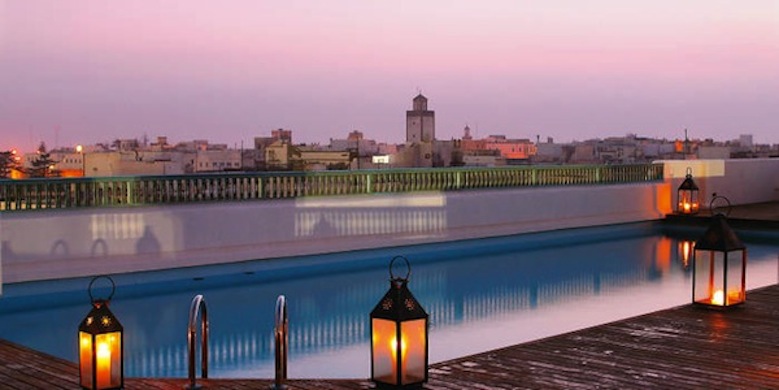 © L'Heure Bleue Palais
Most people associate Morocco with mountain ranges and desert rather than its 1,300 miles of magnificent Atlantic coastline. Within the last few years, however, sleepy Essaouira has started to attract growing numbers of travelers looking for a breath of salt air, some excellent seafood and good shopping. The city is famous for its intricate yew wood marquetry and beautiful beaches, and is also a wonderful respite from the crowds and tumult of Marrakech. The Phoenicians founded Essaouira during the seventh century B.C. as a place to produce indigo dye from the abundant shellfish found along the coast. The strategically located town was occupied by the Portuguese in the 15th century, who fortified its harbor and named it Mogadouro, a variation on the Berber word Amegdul, or "well-protected."
When the Portuguese withdrew in 1541, the town slumbered until a Moroccan sultan turned it into a free port in 1765. It rapidly became one of the most important commercial cities in North Africa. The sultan hired the French architect Théodore Cornut to design and build the city's signature ramparts; he also reconfigured the existing medina, or traditional Arab town, into a European rectangular layout of streets. Under French colonial rule, Essaouira (then known as Mogador) became one of the most important fishing ports in Morocco, a role it still plays — most of the fish served in Marrakech are caught here. Essaouira's growing popularity as a resort town began when Orson Welles shot Othello here, and the world was bewitched by images of Atlantic waves crashing against its crenellated ramparts. The city gained further notoriety when guitarist Jimi Hendrix sojourned here during the '60s. Slowly but surely, adventurous Europeans started buying up old houses within the city's walls and turning them into small hotels.
Most recently, Essaouira has boomed in tandem with Marrakech, which is only a two-hour drive inland via fine roads that pass through the austere, beautiful countryside where Morocco's famous argan oil is produced. The thorny argan tree grows wild and is unique to this region. Musky-flavored argan oil has become popular with some of Europe's best-known chefs, and is also used to produce high-quality cosmetic creams and soaps, as it's rich in vitamin E and essential fatty acids. By Moroccan law, only Berber women have the right to harvest and process argan nuts, and several dozen argan oil cooperatives between Marrakech and Essaouira may be visited. Though Sofitel has a pleasant enough hotel overlooking Essaouira's main beach, we'd only recommend it for its excellent thalassotherapy (seawater) spa.
Instead, the place to stay for anyone wanting a full-service hotel is L'Heure Bleue Palais, created six years ago from an imposing four-story 19th-century building most recently used as an orphanage. Built around a magnificent lantern-lit patio and courtyard garden planted with palm and banana trees, this intimate property has 35 rooms and suites, all of which are accessed from the galleries surrounding the central atrium. Standard doubles are furnished with wooden window shades, ebony-finished French Colonial-style furniture, antique floor tiles and comfortable beds flanked by reading lamps.
Suites come in a choice of four decorative motifs — African, Oriental, Portuguese or British Colonial. We recommend the junior suites, as they are roomier and lighter than the standard rooms (if you're booking a standard double, be sure to request one on the second floor). We also appreciated the working fireplaces — unless you're visiting during the summer, evenings can be nippy in Essaouira, making it a treat to cozy up in front of a private fire after dinner. In addition to a bar, library and hammam where spa treatments are offered, the hotel has an excellent restaurant where you can sample delicious Moroccan seafood dishes. There's also an attractive rooftop swimming pool with a sunning terrace and fine views. September and October are the perfect times to visit Essaouira, which is busiest during the summer, and a two-night stay allows for a relaxed but thorough visit of the town and maybe a spa treatment or two.