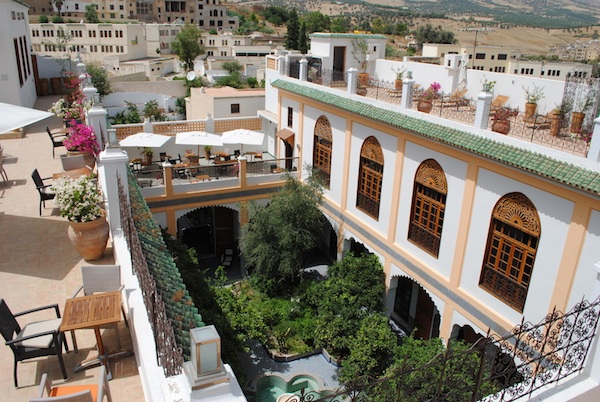 Palais Amani
I have always been fascinated with Fes, the ancient imperial town in the Atlas Mountains that Moroccans consider to be the intellectual capital of their country. Unfortunately, this intriguing city has long lacked a hotel commensurate with its considerable charms. The Palais Jamais, part of the Sofitel chain, has recently undergone significant renovations and is the only full-service luxury hotel in the city. However, I've frequently wished for an excellent hotel in Fes El-Bali, Fes' labyrinthine old town. This is why I was curious to follow the enthusiastic recommendations of several Parisian friends and stay at the Palais Amani, a new 14-room riad hotel in a renovated palace on the edge of the old town.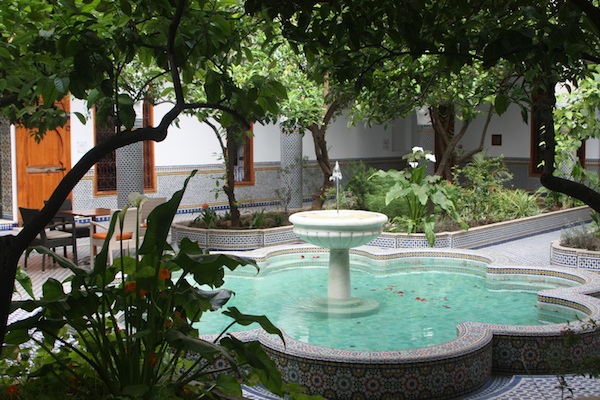 Palais Amani
I am often suspicious of riad hotels, or traditional Moroccan houses built around an interior courtyard. Many of them are dark, chilly and not especially comfortable. Happily, the Palais Amani proved to be a first-rate exception. Our "Suite Double" had a large bedroom with a high, carved wood-beam ceiling, an intricately tiled floor, a separate sitting room and a spacious, well-equipped bath. The creature comforts (heating, air-conditioning, Internet access) were excellent. Beautiful carved wooden furniture, handwoven rugs and local ceramics created a powerful sense of place.
Exhausted after a long day of travel, we decided to have dinner at the hotel on our first night in Fes. A friendly English-speaking majordomo suggested drinks on the roof terrace before our meal. While we were enjoying well-mixed cocktails and stunning views across Fes, the proprietor, a delightful French-Moroccan woman, introduced herself and earnestly inquired about our room. That evening our tagine (braised casserole) of chicken with olives and preserved lemons was absolutely delicious.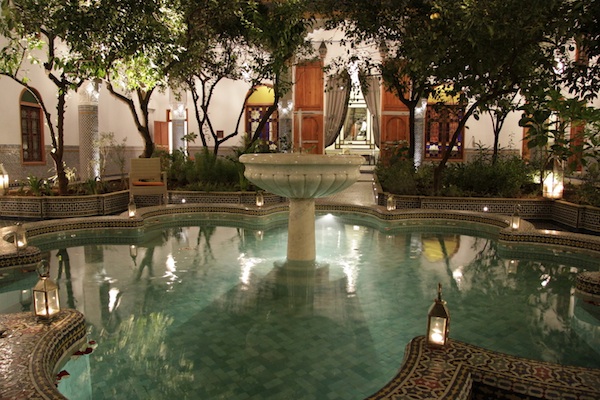 The proprietor had grown up in Montpellier in southern France, and had decided to create this hotel as a coup de coeur, or a project after her own heart. She explained that this century-old palace, once the home to a distinguished Fassi family, had required several years of patient renovation to become the beautiful property it is today. She also arranged an excellent guided visit to the magnificent palaces and mosques in the city's Medina for us the following day, and booked us a terrific traditional Moroccan hammam (exfoliation with black olive-oil soap and a massage) in the hotel's spa the following afternoon. Travelers looking for a club sandwich on a room-service menu or 24-hour laundry service might not take to the Palais Amani, but I found this exceptionally beautiful and authentic Moroccan hotel to be a real pleasure for two nights, and came away much impressed by the professionalism and sweetness of the young staff here.
-A.H.
Palais Amani, 12 Derb El Miter, Oued Zhoune, Hay Blida, Fes Medina.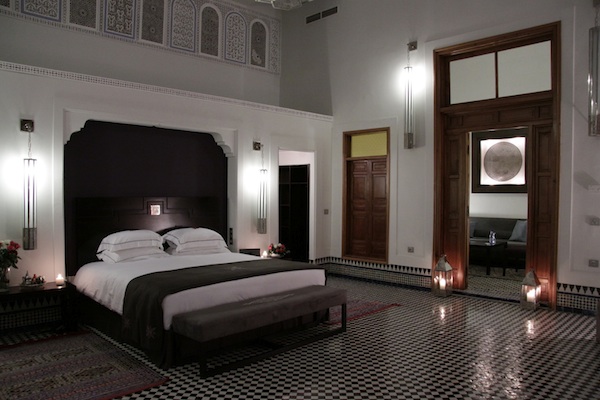 The Grand Suite, Palais Amani